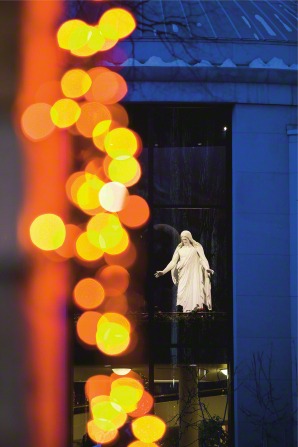 I can't tell you how many pins and blog posts I've seen devoted to advent calendars. There are some really cute ideas out there, but so many are overwhelming to me. I would love to come up with a Christmas activity to do every day and have the time to pull it off, but I know something like that would just stress me out and then I would resent the obligation.
The scenario would go something like this: I would be upset that I didn't have the time to do the activity that I created and imposed on our lives, and be convinced that Christmas was ruined because we didn't do something Christmas EVERY.SINGLE.DAY, and my husband would shake me and yell "You made this up! There's no law that says we have to do this! Nobody cares!" And then I would be convinced that I was destroying our kids' childhood because their friends were doing something fabulous and they weren't and I was the worst mom ever.
I paint quite a picture, don't I?
So I created this little advent scripture book several years ago, and it has been one of the best things I ever did for our Christmas spirit.
A certain little girl got a hold of it and made some modifications, so I'll be remaking mine in the near future.
I shared one of the scriptures from it
yesterday
, and then I decided that I would share a scripture a day from now until Christmas. Since this occurred to me 10 days late, I'll have to spend the next couple of days catching up.
Some things about this little book: There are 25 scriptures, one for each day leading up to Christmas, and then one on Christmas day. I decided for this collection of scriptures that I wanted to focus not only on the Savior's birth, but on His life, mission, and teachings, as well as the true miracle of His atonement and resurrection. The scriptures are taken from the
Old Testament, New Testament, the Book of Mormon, and the Doctrine & Covenants.
Merry Christmas!

Day 2
Jesus's Birth is Foretold
And behold, he said unto them: Behold, I give unto you a sign; for five years more cometh, and behold, then cometh the Son of God to redeem all those who shall believe on his name. And behold, this will I give unto you for a sign at the time of his coming; for behold, there shall be great lights in heaven, insomuch that in the night before he cometh there shall be no darkness, insomuch that it shall appear unto man as if it was day. Therefore, there shall be one day and a night and a day, as if it were one day and there were no night; and this shall be unto you for a sign; for ye shall know of the rising of the sun and also of its setting; therefore they shall know of a surety that there shall be two days and a night; nevertheless the night shall not be darkened; and it shall be the night before he is born. And behold, there shall a new star arise, such as one as ye never have beheld; and this also shall be a sign unto you. And behold this is not all, there shall be many signs and wonders in heaven.
-- Helaman 14:2-6
Day 3
Jesus's Birth is Foretold
And in the sixth month the
angel
Gabriel was sent from God unto a city of Galilee, named Nazareth, To a
virgin
espoused to a man whose name was Joseph, of the house of David; and the virgin's name was Mary. And the angel came in unto her, and said, Hail, thou that art highly favoured, the Lord is with thee: blessed art thou among
women
. When she saw him, she was troubled at his saying, and cast in her mind what manner of salutation this should be. And the angel said unto her,
Fear
not, Mary: for thou hast found favour with God. And, behold, thou shalt conceive in thy womb, and bring forth a son, and shalt call his name
JESUS
. He shall be great, and shall be called the Son of the Highest: and the Lord God shall give unto him the
throne
of his father
David
. And he shall
reign
over the house of Jacob for ever; and of his kingdom there shall be no
end
.
Day 4
Lift up your head and be of good cheer; for behold, the time is at hand, and on this night shall the
sign
be given, and on the
morrow
come I into the world, to show unto the world that I will fulfil all that which I have caused to be
spoken
by the mouth of my holy prophets. Behold, I
come
unto my own, to
fulfil
all things which I have made known unto the children of men from the
foundation
of the world, and to do the
will
,
both
of
the Father and of the Son—of the Father because of me, and of the Son because of my flesh. And behold, the time is at hand, and this night shall the sign be given.